In January 1996 the Financial Crimes Enforcement Network (FinCEN) Advisory presented the original Travel Rule, a rule that requires all financial institutions to pass certain information on to the receiving institution on certain payments and fund transfers.
In 2019 the Financial Action Task Force (FATF) recommended that the Travel Rule be extended to include fund transfers of virtual assets (VAs) between virtual asset service providers (VASPs).
How does this impact CoinCorner?
The new Travel Rule requires cryptocurrency exchanges like CoinCorner to send the personal information of the remitting user on to the receiving platform/wallet provider if the value of the transfer meets or exceeds one of the thresholds decided upon and put in place by the sending/receiving country.
How does this impact CoinCorner users?
At the time of a BTC withdrawal from a user's CoinCorner account we will get notified behind the scenes if the wallet address you enter is an address with another VASP.
If the address does belong to another VASP we will ask you to provide the name of the person or business you're sending to during the usual send process and check that matches the information we get from the receiving VASP.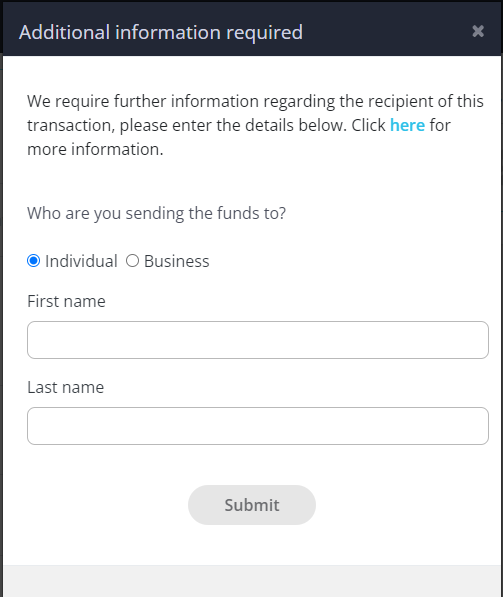 Upon confirmation of the recipient's information your transaction will be sent as normal without any further steps.
If the name you provide can't be matched with the information we receive your transaction will fail and no funds will be sent, requiring you to double check the recipient's information and try again.
Overall the send process itself will be mostly unchanged for CoinCorner users, we may just require you to provide the name of the recipient when prompted to do so on screen during the process.
At present the Travel Rule only applies for transactions between virtual asset service providers (VASPs), so will only be implemented on transfers from your CoinCorner account to wallet addresses custodied by other VASPs. Withdrawals to private wallets and cold storage devices will be unaffected.
Our solution to the implementation of the Crypto Travel Rule is fully GDPR compliant.