Each user has a personal deposit threshold on their account which you can see in the sidebar of your account. Once you have deposited up to this threshold you will be pushed to complete our Account Verification process.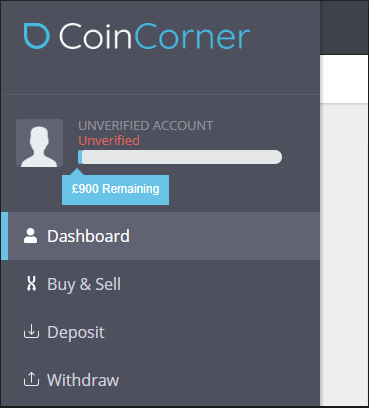 Some users may be pushed to verify their account before hitting their threshold if your account is flagged by one of our automated risk checks. We apologise if your account was inadvertently flagged, but you will need to complete the Account Verification process all the same.
We can ask for verification documents at any time, and failure to provide us with the requested documents may delay or prevent any further use of our site.
What is required?
To verify your account you will need to provide us with:
In some instances you may also be required to upload a selfie of you holding your proof of identity document and a handwritten note stating a number given to you on the Verification page.
Bank deposits
Users will be required to verify their CoinCorner account after a bank deposit has been credited to their account before they are able to withdraw any Bitcoin purchased using those deposited funds. This is a requirement put in place by our banking partner and will be the case regardless of whether the deposit takes you over your pre-verification threshold or not.
More information on verifying your account can be found here.
Have any questions? Get in touch!