Stacking accounts allow our users to create multiple 'sub-accounts' within their CoinCorner account to save towards specific savings goals, allocate funds to an account held for a family member, or anything else you want. More information on using stacking accounts can be found below.
To create your stacking account you will need to click Stacking Accounts in the sidebar of your account, then the Create new account button. A popup will appear that allows you to choose a colour, name and stacking goal for your account. You can change whether the stacking goal is a BTC or fiat amount by clicking the

button.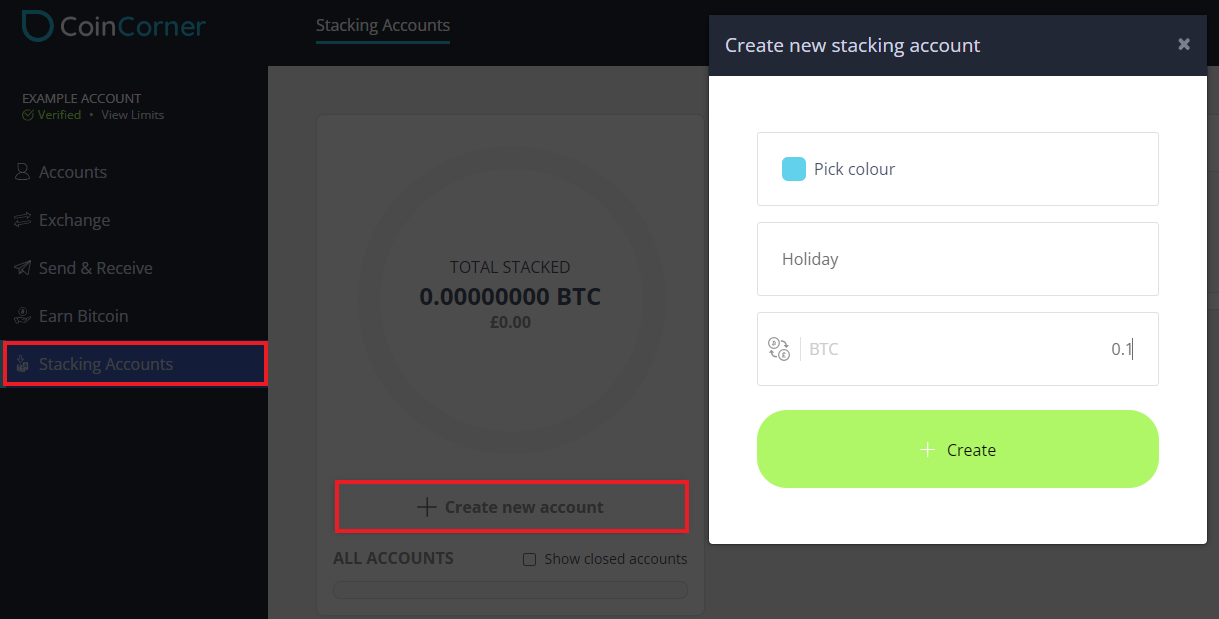 Click the Deposit button to move BTC from your CoinCorner BTC balance into your stacking account. You can choose the BTC or GBP amount to transfer, as well as whether it's a one time deposit or a recurring deposit, in the popup box.
You can see how much BTC has been stacked in that account and add a new stacking account on the left hand side of the page. All deposits into your stacking accounts can be viewed in the All Transactions section of the page, and you can view all the recurring deposits set up for your stacking accounts by clicking the Recurring deposits button in the top right corner of the page.
Further deposits can be made by clicking the Deposit button, and you can withdraw from your stacking account back to your CoinCorner BTC balance by clicking the Withdraw button.