Bitcoin transactions are, by design, irreversible. This means any funds you send from your CoinCorner wallet cannot be recalled or cancelled. As this is the case, we emphasise that you must be sure that any third-party wallets, merchants or people you send bitcoin to are legitimate and can be trusted.
We are aware of a number of digital currency scams that are currently in circulation and ask that our users remain vigilant and do their checks on any third-party entities they transact with. Here is some information on some of the scams we are monitoring:
Investment Scams
There are a number of scams which involve people impersonating legitimate brokers or businesses to offer regulated products or services, without actually being a regulated entity themselves. The websites they use often look very professional and could be mistaken for being legitimate. The people operating behind them are very good at convincing you of the same.
These scams will persuade you to sign up for an account and transfer bitcoin with the promise of large returns. They will show you evidence of your investment performing well to try and entice you to deposit further funds, before cutting ties completely and stopping all communications. Here are some tips on how to spot an investment scam:
Don't believe everything you read - investment scams often promise unrealistic returns on your investment. If it sounds too good to be true, it probably is. We urge you to do some more research into the company to make sure that it is legitimate.

If you are transacting with an investment business, double-check that they are licensed to provide the regulated services that they are offering you. You can do this through your local financial regulator.

Try and withdraw your funds. Often this is made intentionally difficult by the scammers in an attempt to keep your funds on their site.
Romance Scams
In a romance scam the scammer will simulate a romantic relationship with the victim, working on gaining their trust and affection before convincing them to send money. These scammers are often very persuasive and can convince their victims to part ways with large amounts of money for various reasons. Examples include paying for flights to the victim's country, paying hospital bills, giving money to help out a family member or for education purposes.
Bitcoin is an often used method of transferring money due to its irreversible nature. This means that once you have sent the funds there is no way to cancel or retrieve them. Unfortunately, victims of romance scams will likely have no means of recourse if the scammer disappears.
Giveaway Scams
In the past we have seen instances of scammers using social media to advertise fake giveaways or competitions, enticing victims to send funds as an entry fee. These scams often look legitimate as the scammer takes the time to create a business social media profile that, at first glance, appears to be CoinCorner.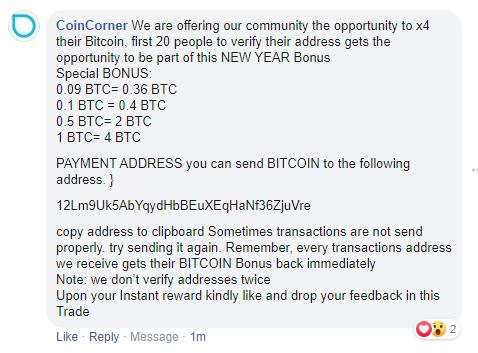 An example of a giveaway scam posted on a CoinCorner social media post.
CoinCorner does not advertise any competitions or giveaways in the comments section or as a reply on social media, and would never require users to send bitcoin to a wallet address to enter any competition or giveaway.
We would recommend that you research the page behind any competition posts as it is likely to only have been created for this purpose, and will have no posts or history on the profile. Posts like these are often filled with grammatical and/or spelling errors which can be a strong sign that whatever giveaway or competition is being advertised is not legitimate or run by CoinCorner.
Employment Scams
In some instances, scammers may create fake profiles on recruitment or job search websites to target people who are looking for employment. Scammers will use these fake CoinCorner profiles to reach out to the victims and correspond with them about a job opening.
After making contact with a victim, scammers typically ask them to create and verify a CoinCorner account (to show understanding of the site), before requesting access or the login credentials to that account so they can conduct activity themselves. They may also request payment in bitcoin to gain access to "exclusive training courses" and, once payment has been received, stop responding.
CoinCorner does not advertise job vacancies on any third-party websites and all legitimate job listings can be found on our Jobs page. Additionally, any legitimate correspondence regarding a potential job vacancy will come from an @coincorner.com email address.
This list is not exhaustive and scammers are coming up with new methods all the time to try to steal bitcoin from unsuspecting victims. To reiterate, cryptocurrency transactions are irreversible and any funds sent to a third-party cannot be cancelled or recalled. Please ensure that you are certain any parties you are transacting with are legitimate, and you trust the person or business you are sending funds to.
Have any questions? Get in touch!