CoinCorner business accounts have some extra functionality available that isn't available on a personal account. Below is a brief overview of some of the main account functions of a CoinCorner business account, and more information on the main payment functions can be found here.
Multi-user access
The account admin has the ability to add multiple users to the account to allow other members of the business to login and take action on the account. A quick guide on how to set up a multi-user can be found below:
Step One: Click Configure in the account sidebar and go into the Multi-User tab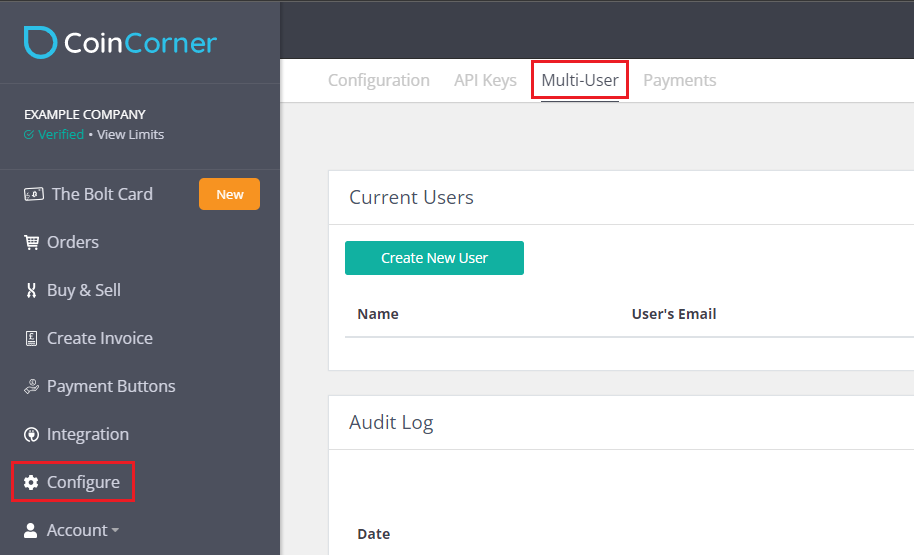 Step Two: Create the multi user by entering their information and choosing their permissions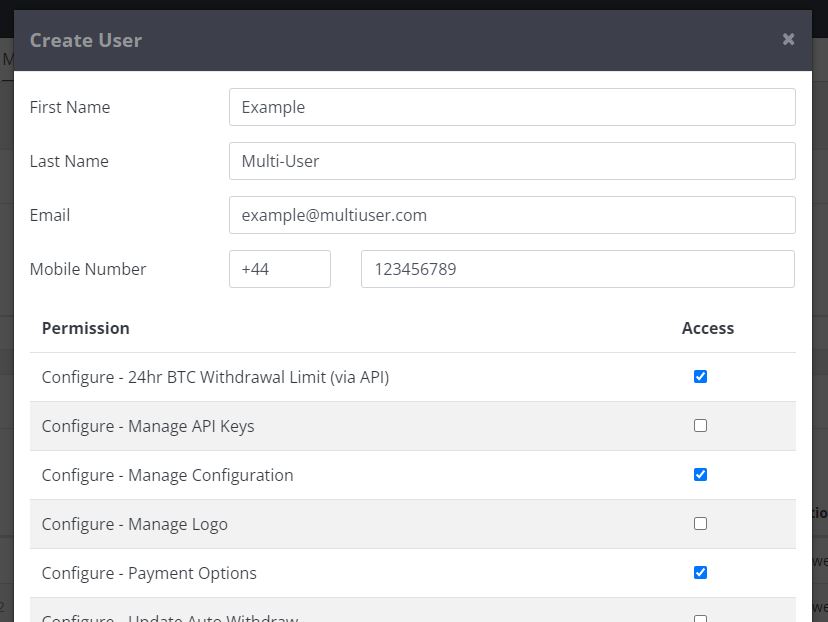 Multi-users will be sent an email and SMS code to the details provided. They will then be able to login by clicking the link in the email, or entering their email address and the one-time password on the Login page. They will then be asked to enter the SMS code they received and to choose a new permanent password for the account.
The admin account will be able to make changes to a multi-users permissions at any time from the Multi-Users page.
Auto-withdrawals
Business accounts can set up auto-withdrawals on their account to arrange for near instant settlement when receiving payments from their clients. This is done by setting an auto-withdrawal threshold that, any time your GBP/EUR balances exceeds this amount, an automated bank withdrawal request is sent to the team to be processed at the earliest opportunity.
Click Configure in the sidebar of your account and scroll down to the auto-withdraw section. Fill out the fields with the account information you would like to withdraw to and set the threshold at which you want the withdrawal to be requested then save this by clicking the Save Changes button.
Use the Enabled toggle to activate and deactivate this auto-withdrawal request whenever you like. You can create a EUR auto-withdrawal by clicking the EUR Auto Withdraw tab and doing the same.