Our Checkout service allows your business to accept bitcoin payments from clients quickly and easily. This article will explain how to use your CoinCorner account to accept bitcoin payments for your goods or services.
Invoicing clients
You can create and send out bitcoin invoices to clients from the Create Invoice tab in the sidebar of your account. First you will need to set the fiat value and currency of the invoice and click the Continue button.
Fill out the invoice information on the next page and choose whether to send the email out via email or whether to generate a link that takes your customers to it.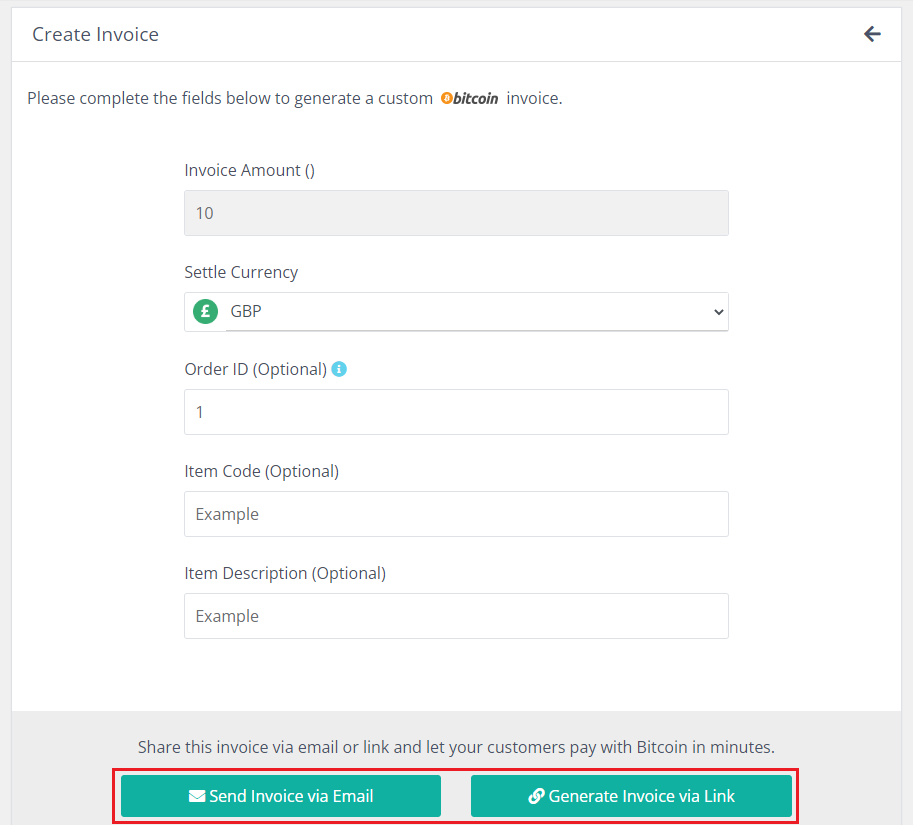 Choosing to send the invoice via email will open up a popup where you can enter the email address of your client, click Send Invoice and they will receive an email containing a link to click to pay the invoice.
You can generate the invoice as a link too, allowing you to copy and paste the link to the invoice and send it to your client however works best for you. Your client then just needs to click the link to be taken to the invoice payment page.
Paying a CoinCorner Checkout invoice
To pay an invoice sent out via CoinCorner Checkout your client will need to click the link in the email sent or paste the invoice link into their search bar. This will open the invoice on their screen and they will have 10 minutes to pay it before it expires.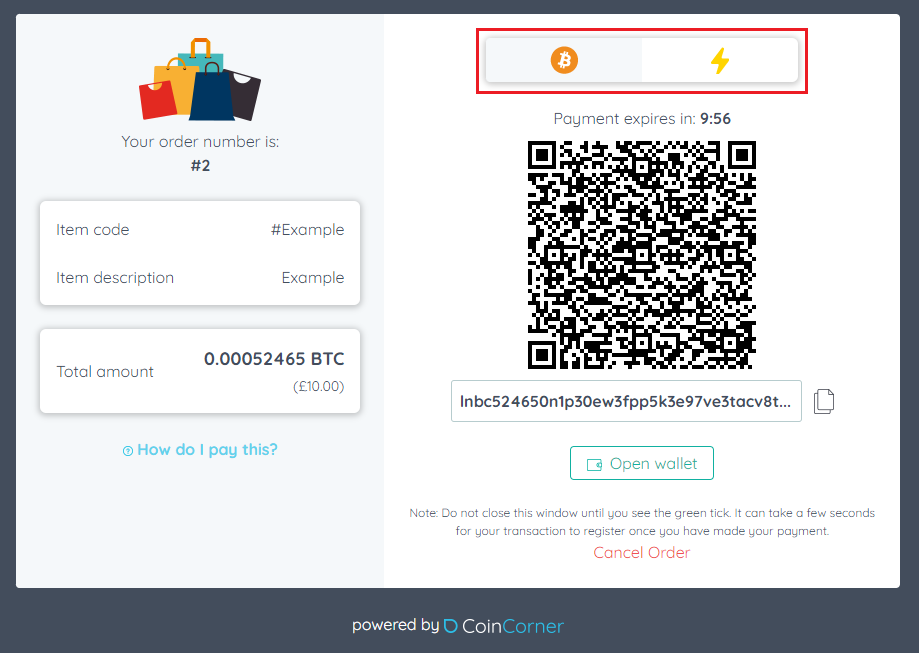 Your client can see the item code and description you entered when creating the invoice on the left hand side. They will be presented with a QR code that can be scanned, as well as a text Lightning invoice that can be copied, to complete the payment.
They will need to scan the QR code, or copy and paste the invoice, with their wallet provider and send the funds from there. When the invoice has been paid they will be presented with a tick and a message confirmed successful payment.
Lightning will be the default payment method on the invoice, but the user can change this to a standard, on-chain transaction by clicking the bitcoin logo at the top of the invoice.
Creating payment buttons
You can quickly create bitcoin payment buttons for your website in the Payment Buttons tab in the sidebar of your account.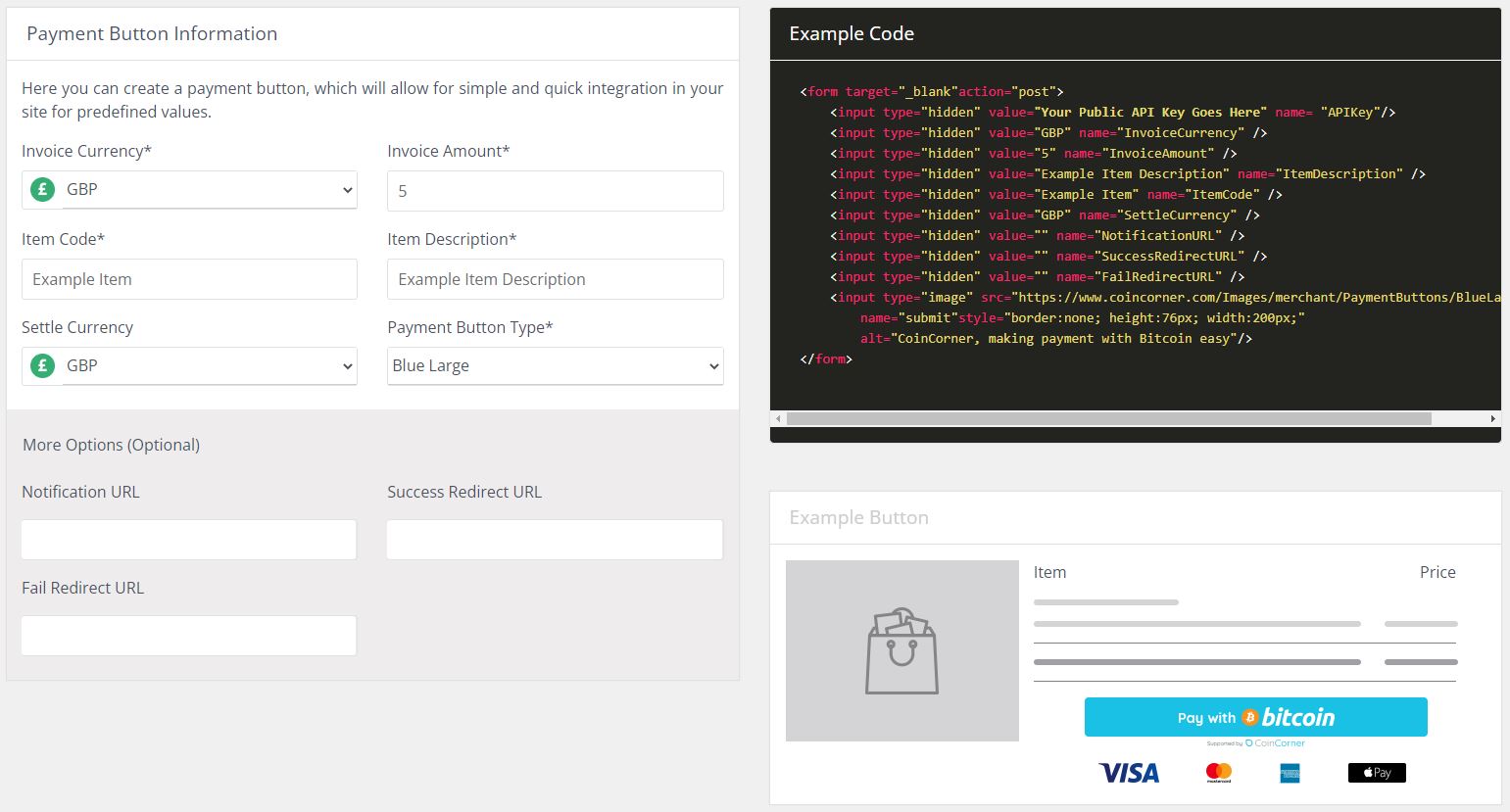 Fill out the boxes to suit and you will see the Example Code update accordingly. Enter your API Key where stated in the example code and paste that code into your website code where necessary.
For this to work you will need to make sure that you have enabled the Checkout Buttons toggle on the Configure page.
Integrating CoinCorner Checkout
CoinCorner Checkout can be integrated quickly and easily into your e-commerce platform if your website is built with a platform our plugin is compatible with. Our plugin is compatible with the following platforms, and you can find guides on how to integrate for each in the Integration tab in the sidebar of your account:
WooCommerce
Magento
OpenCart
OsCommerce
PrestaShop
NopCommerce
Zen Cart