Recurring Lightning payments is another innovation that has been added to your CoinCorner account to take advantage of what can be done on Bitcoin's second layer Lightning Network. This feature allows our customers to automatically send lightning payments at regular intervals, whether it be daily, weekly, monthly or yearly. This can allow you to pay for bills, subscription services, or send regular payments to family and friends. The instructions for setting this up are detailed below.
Step One: Navigate to Recurring Payments
Click Send & Receive in the sidebar of your account and then click Recurring Payments at the top of the page.
Step Two: Fill in the required fields
In the Recipient field enter the Lightning Address or LNURL pay (this will look like this - yourname@coincorner.io) of the payee you want to send the funds to.
In the Amount field enter the amount you want to send. You can toggle between £ and BTC by clicking on the

symbol on the left.
Add a reference if you wish (only you as sender will see this reference).
Select the frequency that you want to make the payment at.
Select the date you wish the first payment to be made (we send payments at 1pm each day).
Click 'Confirm' to finalise the payment setup.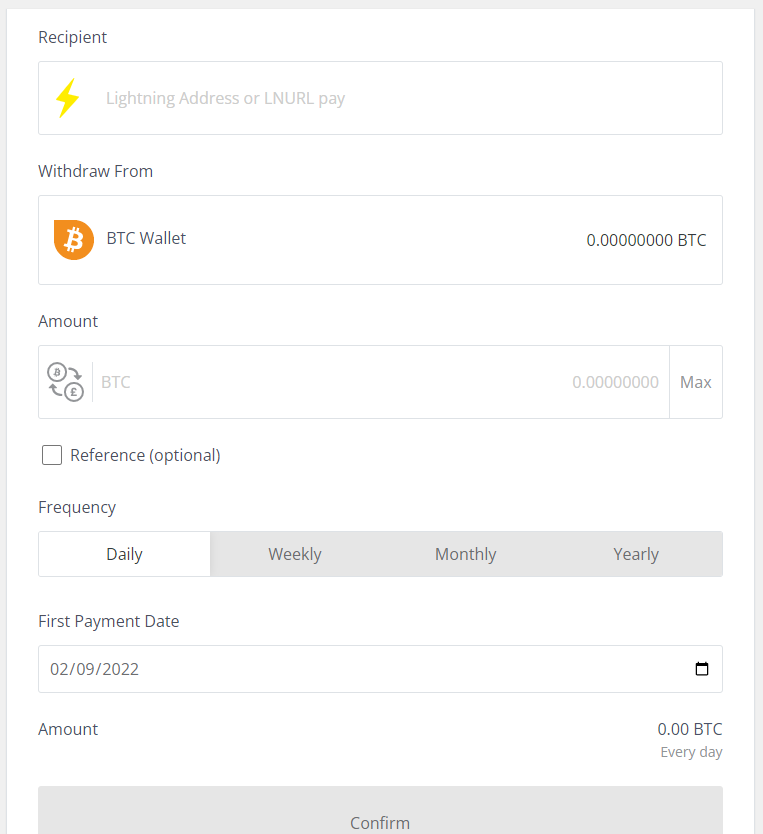 Step Three: Review the payment details
A list of your recurring payments and the details of each will show on the right hand side whenever you click into the Recurring Payments tab. You can temporarily disable a payment by clicking the

symbol. This will then show as red. It can be reactivated by hitting the

symbol. Hitting the

symbol will delete the payment entirely.

At present we have placed a limit of £100 per transaction on this function. This is something we will keep under review and may look to increase in the coming months once we've had some time to monitor usage of the facility.