CoinCorner's new service, Send Globally, allows users to quickly and easily transfer money from GBP/EUR to friends or family in Kenya, Nigeria, Ghana, Senegal, Cote d'Ivoire, Benin, Rwanda, Togo or the Philippines across the Bitcoin Lightning Network. The recipient will receive the funds in their bank account in their local currency. For more information click here.
To use Send Globally you will first need to open the mobile app and go into the Send tab. Tap Send Globally from the options available.
Choose the country you are sending funds to from the dropdown and enter the amount you are sending in the box below. You can use the toggle on the right hand side of this box to choose whether you want the funds to be deducted from your GBP or EUR balance.
Fill out the boxes below to designate the recipient of the transferred funds and, if happy with the recipient's details, click the Confirm button.
A send confirmation will pop up on the screen before the funds are transferred for you to check over. This confirmation will include the amount being transferred and received, the BTC amount being transferred and the name and account details of the recipient. If happy to proceed after checking over the send confirmation you will have 30 seconds to confirm the payment by selecting the Send button.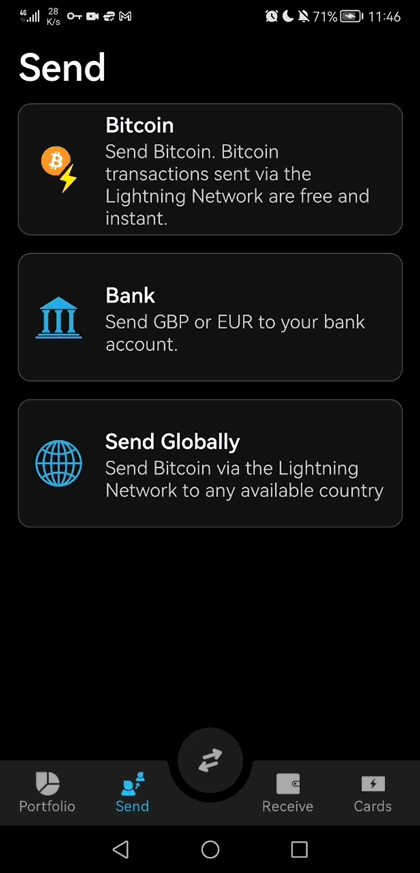 After confirming the funds will be sent via the Bitcoin Lightning Network and will be received in the recipient's account in their local currency.
Are there any fees associated?
There are no fees from CoinCorner's side, however our third party partners may charge a fee on their end. This fee will be displayed before sending though as you will note the amount you entered when going through the process will be slightly different as it will have the fee from the receiving party's end added on to it.
Have any questions? Get in touch!