Users can fund their CoinCorner account by bank transfer or debit card. The time taken for bank deposits to be credited to your account can vary, and more information on this deposit method can be found below.
To fund your account by bank transfer you will need to click Deposit in the sidebar of your account. You will be in the Bank tab of the popup box by default, and in this box you can choose the currency you are depositing in using the dropdown to be returned the appropriate bank details.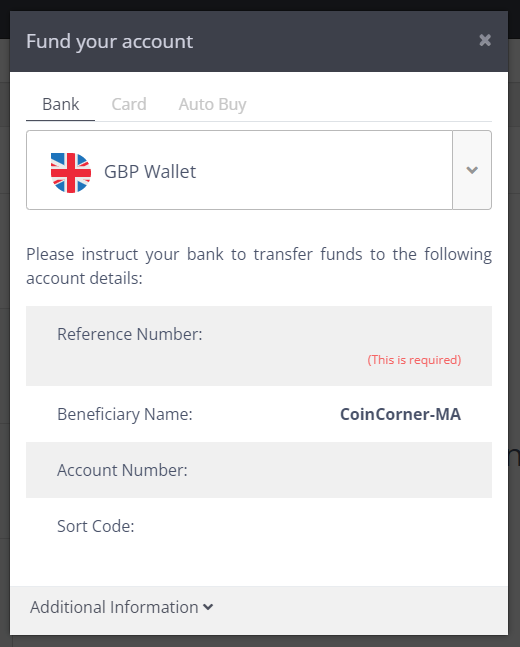 Arrange the transfer of the funds from your bank to the details given on the website. Please ensure that you state the reference number we provide to you in the popup box, this helps us attribute the funds to your account.
We can only credit bank deposits to personal accounts if the funds arrive from a personal bank account in your name. Please don't deposit from a third party or business bank account if funding a personal CoinCorner account.
Fees and limits
The fees and limits associated with depositing by bank transfer are below:
Fee
Minimum Deposit
Maximum Deposit
None

£5.00

€5.00

None
How long does it take for my deposit to arrive?
The time taken for your deposit to arrive will depend on the currency you are depositing in.
We use GBP Faster Payments, so any funds sent via GBP bank transfer should arrive with us within a few minutes. GBP bank deposits will also be auto-credited to your account if the reference is stated correctly.
We can only accept EUR bank deposits sent via SEPA, and SEPA transfers can take between 1 and 3 working days to arrive. EUR bank transfers will be credited to your account by the team manually upon receipt.
If you're looking to deposit by debit card instead then you can find information on that deposit method here.