While depositing by card is the quickest and easiest method of funding your account, you may not be able to deposit the amount you are hoping to as it exceeds your daily card deposit limit. The best way to deposit more than your card limit allows is to do so via bank transfer where there are no limits in place.
Users can fund their account via GBP or EUR bank deposit. We can only accept EUR deposits sent via SEPA, and users will need to verify their account before they can access funds deposited via bank transfer.
The process for funding your account via bank transfer is as follows:
Step One: Go to the 'Bank' tab in the Deposit box
Click 'Deposit' in the sidebar of your account to open the Deposit box and go to the 'Bank' tab. Choose the currency you are depositing in from the dropdown and enter the amount you want to deposit in the 'GBP' box. Click the 'Deposit' button to advance to the next step.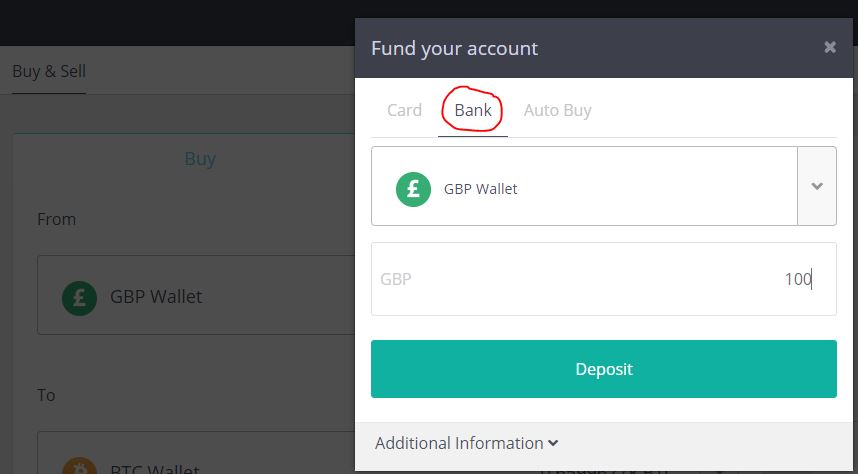 Step Two: Send the funds
You will be returned our banking details for the currency you are sending in the deposit box. Transfer the funds from your bank account to the details provided on the screen and they will be credited to your account when they arrive with us.
The reference number provided is your unique reference for bank deposits and attaching this as your reference when sending the funds will make your deposit eligible to be auto-credited to your CoinCorner account upon arrival in our account, sending the funds without this reference can result in slight delays as the funds will need to be manually credited to your account.
Further information regarding our bank such as our address, bank name and address and details for sending international payments can be found by clicking the 'Additional Information' dropdown.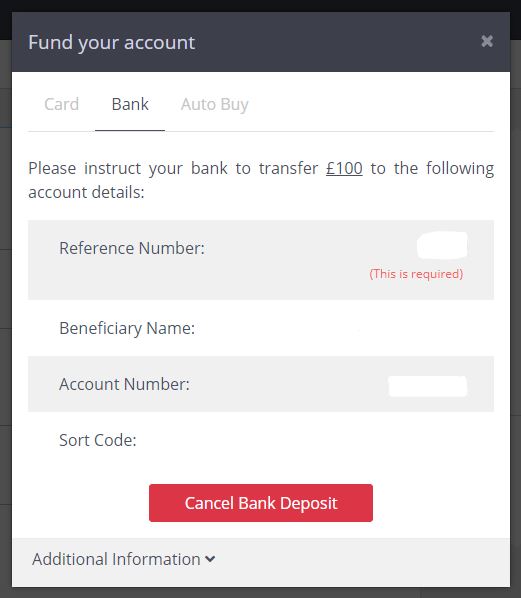 If you are no longer intending on sending the funds you can click the 'Cancel Bank Deposit' button to delete the deposit notification from your account, however please note cancelling the notification and still sending the funds can make your deposit ineligible for auto-crediting as our system won't be able to match the deposit received to your account.
If depositing by bank transfer isn't for you then you can find a guide on how to fund your account by credit/debit card here.
Bank deposit administration fees and limits
Method
Time
Admin Fee
Minimum
Maximum
GBP bank deposit

UK - 1 to 3 working days

International - 1 to 5 working days

UK - £1.00

International - £25.00

UK - £5.00

International - £30.00

No limits
EUR bank deposit

1 to 3 working days

No fee
€5.00
No limits
Need more guidance? Feel free to get in touch with our Support team by submitting a query on our Contact Us page.